Posted by

[email protected]

on December 13, 2011 at 6:05 PM
Wed 7th Dec, West Pier
Lyn Price reported that he fished the  above mark from 2-30p.m - 6-00p.m.  Going on to say that for bait he had mackerel and squid, catching mini whiting and pout by the bucketful very few tidy ones, as it turned to dusk good old doggies came on the feed almost as numerous as mini whiting, gave up at 6pm, enjoyable afternoon despite stiff winds.
Fri 9th Dec Knab Rock
Dai Crocker fished above and from the outset was catching whiting on his new method of using small chunks of mackerel on small hooks.  Its proving successful too.  He had almost thirty fish out with around a dozen keepers of which he kept 1/2 dozen and giving some anglers nearby who were not doing so well a few too.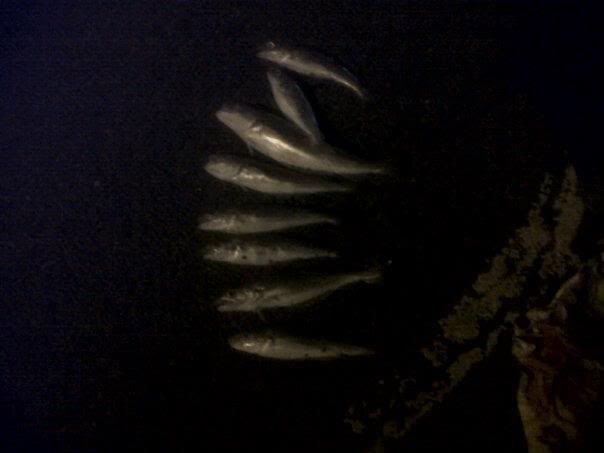 All of the others went back to fight another day.  One was a nice 42cm and weighed bang on a 1lb 1/2 the next day.  
Pretty strong southwesterlies, a nearly full moon rising tides that were already pretty big.
Sun 11 Dec Aberavon Beach
It was the clubs annual fur and feather match up for grabs was two turkeys and a £20 tackle voucher.  Aberavon was chosen so that everyone would be able to get there as it is such easy access.  However the weather wasn't kind to us and only 6 intrepid anglers out of the nearly 20 in the club turned in.   Most had work commitments but some had a bad case of sugarlumpitis.   It was agreed in the previous Mondays meeting that we would fish from bottom up for four hours, therefore Dai Crocker, Ian, Andrew Smith, lee, Martyn and Apples slugged it out for the prizes. A turkey for biggest fish, a turkey for biggest bag via the SAMF scale and the voucher for most species.  They arrived at Aberavon to be greeted by a full gale in the face.  OOOOoooof!!!!!   they all thought.  Anyway there were prizes up for grabs
The strong westerlies must have meant that the tide didn't go out as far as usual as for the first 2 hours of the flood the water hardly moved, no fish either.  Not that you would have been able to see a bite anyway.  Everyone was getting a bit wobbly, never mind we'll raffle the prizes...  Lee was first in with a 20 odd cm whiting just as the tide started to move up the beach, quickly followed by Ian with a similar fish.  Andrew was next to get off the blank with a 30cm bass.  Martyn notched up 26cm of flounder and Dai 30cm.  Apples got off the blank with a 22cm whiting.  Ian had 2 more whiting and 1 Rockling Lee one more whiting.  that was all the fish but quite nicely no-one blanked

So first prize was a draw between Andrew and Dai.  They had a turkey each.  Ian had biggest bag with 39 points, most species was also Ian winning a turkey also.  As we had to buy another turkey it was decided to keep the tackle voucher for another occasion as the club rules state one prize per angler.