Tues 24 Jan West Pier
Dai Crocker and Ian joined Apples, Lenny and Jon three quarters  of the way down on the pier.  When Ian and Dai got there the others had already caught a bunch of fish Whiting up to 38 cms pouting to 25cm and a few dogs.  It was a very productive night with a medium westerly gusting to about 20 mph.  One of the biggest tides of the cycle with the smallest sliver of moon imaginable  Baits were what was left from the weekend, mostly some mackie but also the odd worm. We fished the tide in and back for a few hours.  We all caught around 20 fish each with about 1/2 doz keepers each as well. except for Jonny who left early with around 6 fish to his name. Dai and Ian caught up with the others numbers wise as they stayed for an hour longer.  Dai felt that worm was the best bait this week and Ian agreed.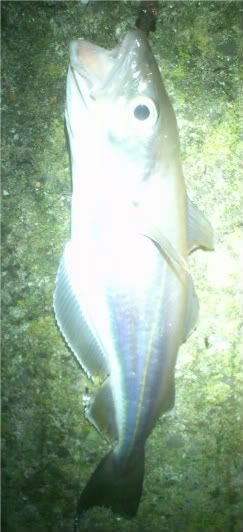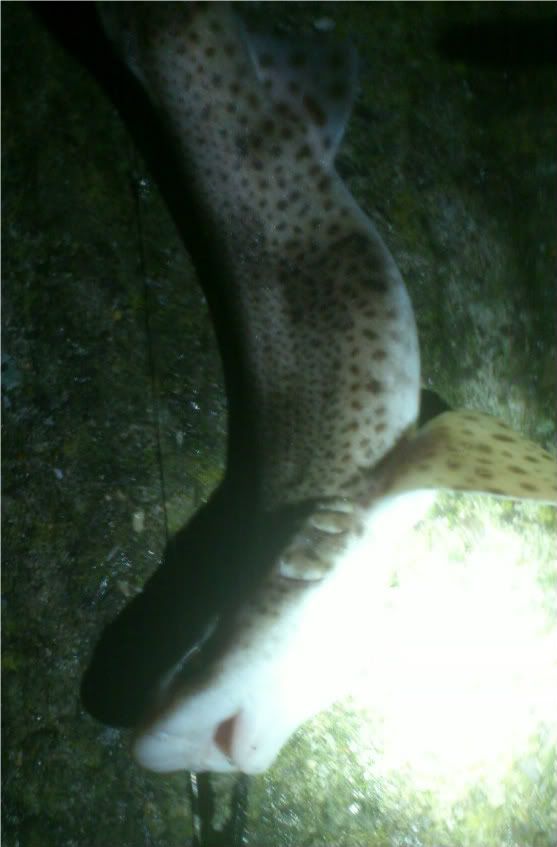 Wed 25 Jan West Pier
Ian and Dai Crocker fished the West pier with non member Andy.  Arriving for 6.30 top of the tide was around 8.  It rained hard all night blustery conditions up to around 25mph no moon at all and the tides were still at their highest, in fairness it was safe to call the conditions horrible.  They had mostly fish for bait mackerel and squid so they were not to optimistic especially as worm was so successful the night before.
Fishing was slow, lots of bites but mostly from bait robbing small fish.  Ian and Dai had around 12 fish each with just one or two keepers.  Andy had a few more.  Bags were made up of whiting,doggies and Dai had a 5 bearded rockling.
Fri 27 Jan Monk Nash
Ian and Dai joined nonmembers Simon, Richy and Martin at this hard to get to low water mark.  As you walk down the hill you think to yourself many things mostly of the spooky nature, especially as they were with Richy horror story writer extraordinaire but mostly as you yomp through the mud you think i have to get back up here.  Bait was sandeel, squid and lug. clear skies with quite a strong very cold westerly which died down as the tide turned. Tactics alternative sandeel squid  then lug wrap on a 3/0 pulley pennel lobbed as far as you could and on the other a two up one down short snood effort for a mixture of baits for what ever was there.

They fished two and half hours down and aimed to stay there for as long as it was safe.  nothing was caught until bottom when 'Richy got into a whiting, Ian also had a whiting as the tide turned. Then as the tide flooded Ritchie and Simon had a small eyed each Simons slightly better. 
5.30 am soon came and we had to scarper Simon had a doggie as we packed up but the other two fellas blanked.

Sun 29 Jan Pobbles Bay

All Saturday Ian and lee couldn't make their minds up of where to fish with these damn easterlies raising their ugly head.  First of all they chose a rock mark   but that had to change because of the heavy rain that was forecast.  There were pros and cons with every mark that was discussed.
In the end it was decided that they would try Pobbles bay on the Gower.  A secluded spot none of us had fished before.  They got to the car park on Pennard cliffs and proceeded to make their way along to the fishing spot after stopping once for ian to go back as he had left his phone on the roof of Steads car.  It took them the best part of an hour to get onto the beach especially as they had taken a few wrong turns in the dark and had to double back.
When they arrived the weather was atrocious a strong easterly with sideways rain, boy it was cold.  The conditions were that  bad that all agreed it best to fish with one rod as the swells from left to right were massive.   Moving the 7 oz grippers without a problem. stead was soon into a schoolie spoiling Lee's record of always being the first amongst the fish.  Lee was next and had a bigger schoolie on a pulley pennel with lugworm.  Then again with this better schoolie which must have been over the lb mark.  Not a very good photo i'm afraid as  ian was nearly crying with cold fingers.

Ian was next in with a flounder of around 30cm.  After that towards top of the tide the boys were being pushed back into a smaller and smaller space and with the left to right swells making  things awkward they decided by mutual  consent that it would not be too wussy if they called it a day.  Nearly An hour later they were in Steads nice warm jeep. They had obviously taken a few wrong turns on the way back.  Everyone agreed that it would be a long time before they go back there.  Having said that they caught fish on a beach in an easterly gale can't be bad.
Sun 29 Jan Knab Rock
With strong easterlies forecast the last place you would want to be is on Knab rock but this little trifle didn't deter  Dai Crocker and Andy and by the sound of it scores of other angler as Dai was there half hour before it was fishable and his preferred spot was already taken.  bait was mackerel and lug.  Dai managed a small dab and a handful of whiting and 10 frozen fingers Andy had a small dab.   These guys also packed up early because of the conditions.
Sun 29 Jan Aberavon Twelve Knights comp
Ritchie and Jonny were both meant to fish this competition but it seems as though jonny was roped in to help marshal this event so didn't get to fish.  Ritchie did manage to fish but has not reported his catch as of yet.