Tues 13th March Cefn Sidan
Dai Crocker and his mate Andy fished here on a highish tide.  Dai was soon into the flatties capturing a handful of flounder.  Towards top of the tide the lovely early spring weather got remarkably cold with quite a stiff breeze.  As andy had neglected to bring suitable clothing both anglers called it a day early.   Medium tide falling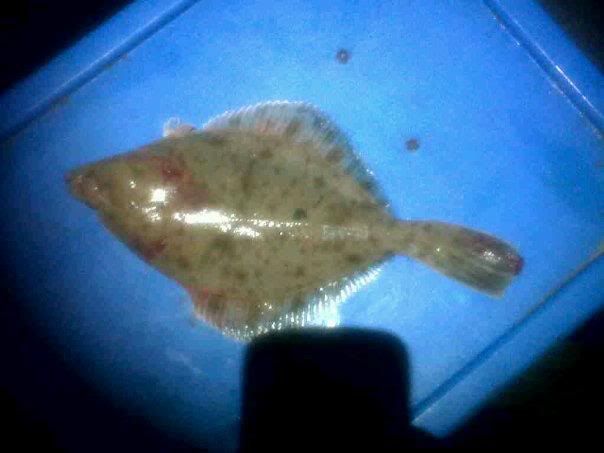 Thurs 15th March Lady Jue
Ian and Lee had been planning a trip on a charter boat for some time and when they heard that Rob Rennie had made his summer move too Swansea earlier in the week they made their minds up to go out with this skipper who has a great reputation.
The plan was a session on the Spurs and maybe a bit of inshore mixed fishing when the tide was at its fiercest.  They steamed for around an hour before arriving at the chosen mid channel deep water mark in the fog. 
As soon as the anchor bit everyone had their bait and hooks overboard and the bacon and sausage sarnies began to roll.  6 Anglers and Rob on board 4 of whom were straight into the fish even though they were nowhere near slack water.  The two which were yet to catch were  Ian and Lee they watched fish after fish arrive over the side and were yet to get a bite.  The only difference between the tackle they were using and the rest of the company was that they were using wire snoods after an hour or so of this plan b was implemented and they changed to 200lb mono hook lengths.  As soon as this happened Lee was into this double figure fish leaving Ian to be the only one still blanking.  Lee with his Spurs hat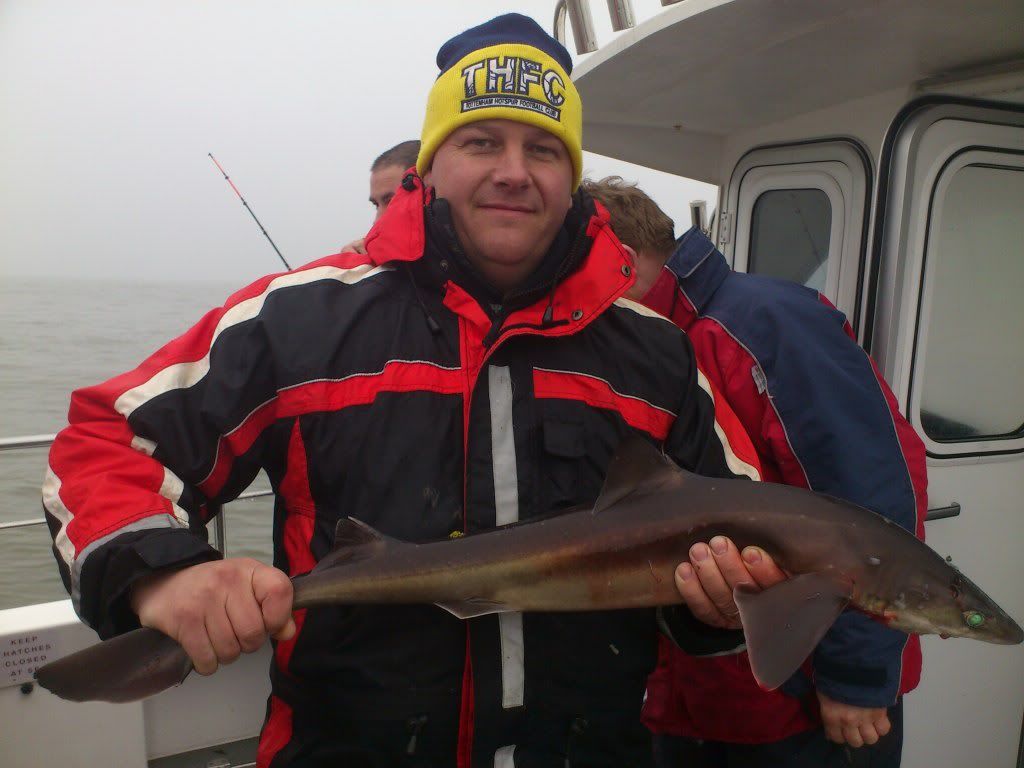 He quickly stole lee's position in the boat and with a relieved sigh was also into the fish.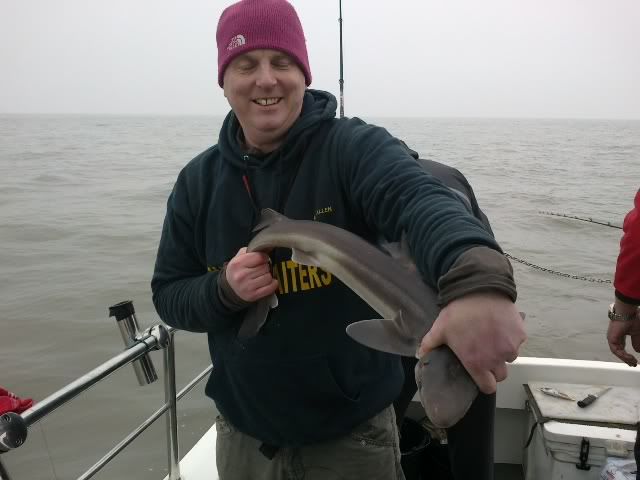 This continued until midday when the tide started to run strongly once more. At this point Steve was into the biggest fish a spur of about 14lb and in the lead for the pool.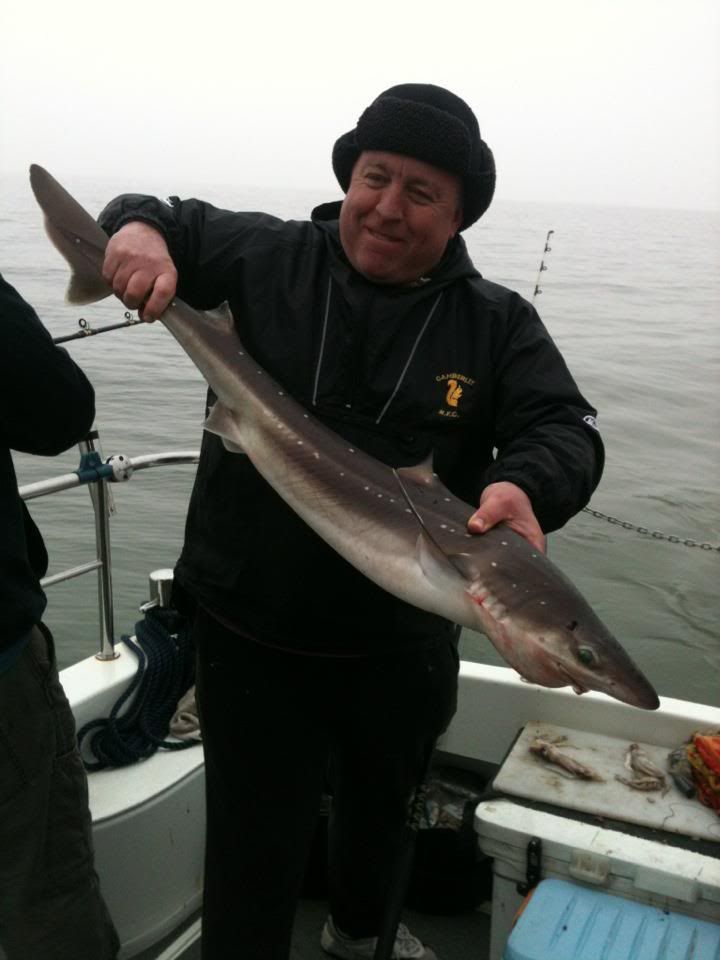 Rob decided to move in shore for a bit of mixed fishing which was a bit of an anti-climax Rob himself had a big fish on at one point but lost it after playing it for 15 or so minutes. 
Ian had a thorny of around 6 or 7 lb and was the butt of everyones jokes as he struggled to get this fish onboard in the current.  It was like pulling a mattress up of the sea bed in the current.  He was still the victim of everyones jibes until one of the other lads named herbie on board hooked into a 10lb blonde that he at first couldn't budge.  It took line and surfaced around 150yards uptide with arms already aching Rob pulled the anchor and we steamed after it and decided to keep steaming back to the original mark this morning for the next period of slack water and hopefully some more spurs.  
They arrived back at the deepwater mark and caught a handful of spurs but it was not the same as the session in the morning however lee had a thorny of around the same size as Ians and two of the other lads had some nice eels one around the mid 20lbs which took the pool.  Ian also had his 200lb mono hook length bitten through after one particularly nice bite.

In total there 105 Spurs boated 2 or 3 eels 3 or 4 Rays and umpteen dogfish around 20 fish per man.They steamed home for an hour getting off the boat around 7 perfectly contented with the days fishing and hadn't even touched their own flasks or sandwich boxes.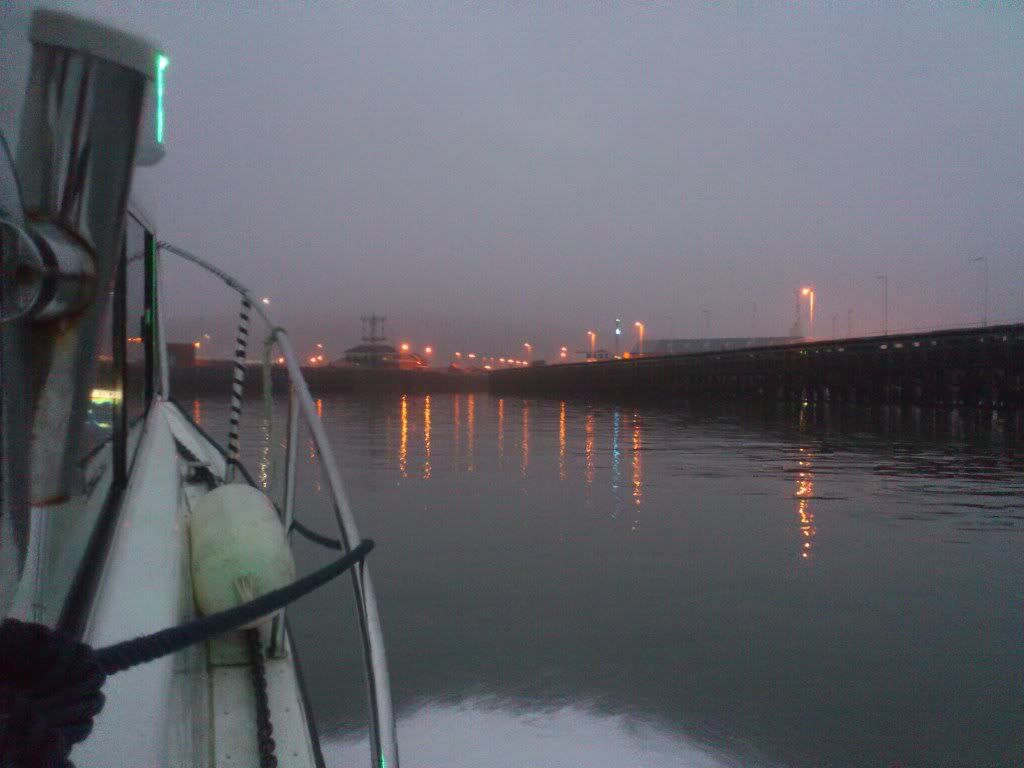 Fri 16th March Loughor Ashtips
Lyn Price fished here bait mudworm fished 10-45a.m - 2-15pm 2 flounder 30cm & 37cm he also reported that he had numerous tiddlers which is a good sign for later this year and next year.

Fri 16th March Rhossili
James and ian were the only ones that could make this Friday nights session, a mixture of commitments meant most of the other lads had to miss what is becoming a bit of a tradition for the master baiters.  They arrived on the beach to find quite a good sourtherly which blows left to right on this beach.  It was strong enough that grippers were needed to hold bottom which was not ideal as the target species were probably bass and flounder and maybe the odd dab. They fished from two hours into the flood until top right in fromt of the white house.  The first two casts for Ian resulted in these two border line fish which were both returned.
These proved to be the only two fish of the night.  With the conditions worsening and the angling not improving the two decided to pack up early and tackle that horrible walk off.
Sun 18th March Penlan V's Gowerton  Llangenith.
Nine anglers turned out for the 5 man team for Penlan a team this month which is fantastic.  Ian, Jonny, Richard, james, Martin, Ray, Apples, Glen and Stead. The team was chosen by the Captain Jon basically if you had maddiesyou were in luckily five anglers had this premium bait for flounders.
Ian fished against Dai, Jonny against Brian, Ritchie against Mushroom and James against Ian and Martin fished against another one of the Gowerton lads.  All fish caught were flounder and all match caught fish without exception fell to some sort of maddie bait wether that was alug cocktail or plain maddies. Some of the guys who fished without maddies had one or two fish but none had the success of theguys further up the beach in the match. 
Jonny set the pace he seemed to be catching fish every 20 mins or so, Brian was not far behind him though.   At one  point they were pretty equal with jon on 7 and brian on 5 slightly bigger fish.   Jonny in the end caught 13 fish and Brian about 8 or 9 but brian had some biggies. 
1 - 0 Penlan
Ian raced into a 4 fish lead against Dai but  was mostly into low scoring low 30 odd cmfish at top of tide Dai put a bit of a spurt on and in the end it was 6 fish to 4 to Ian but only winning by the odd point as Dais fish were much bigger.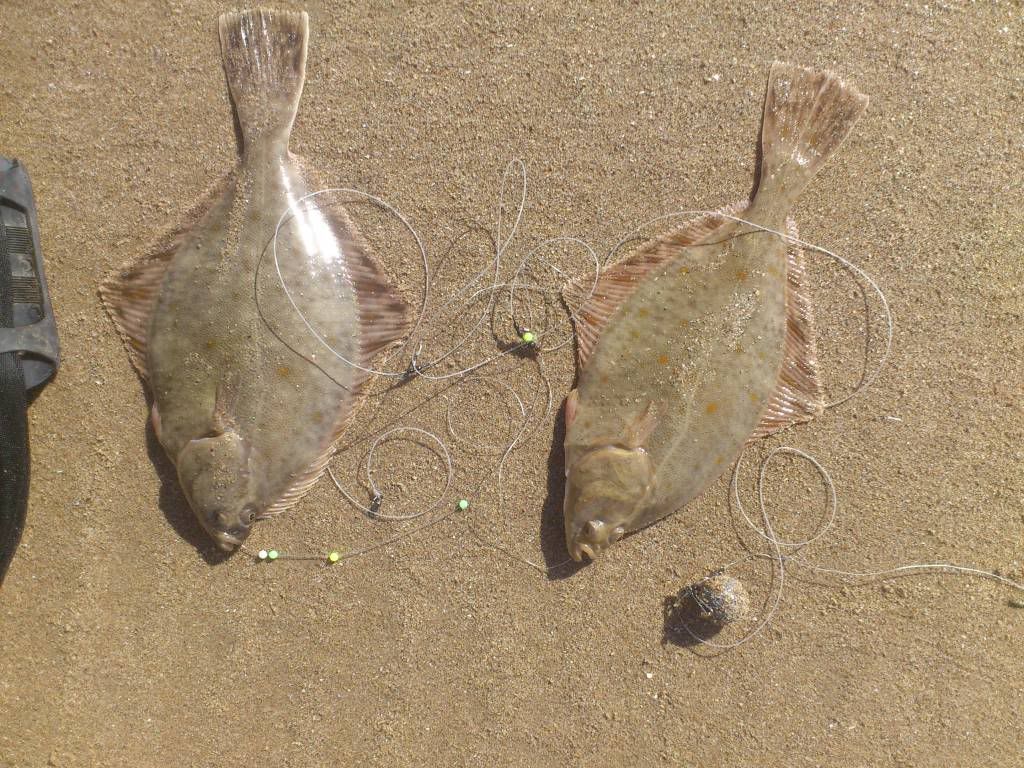 2 - 0 Penlan
James and Ian were neck and neck all match but James pipped him at the post again a 6 - 4  tally.
3 - 0 Penlan
martyn won his match as his opponent blanked.  Martyn had two or three.
4 - 0

Ritchie didn't know the score until we got back to the carpark as he was unable to follow his opponent to the whitehouse being a bit fragile these days.  He caught 3 fish  and his opponent just the one.  The final result was Penlan 5 Gowerton 0. 

~A great result against some fantastic lads.