Thurs 19 Jan Swansea
A bunch of the Penlan boys agreed to try to fish a midweek low water session on Swansea beach.   Some couldn't make it from the outset others encountered problems  as the week went on eventually it was just partners in crime Dai Crocker and Ian.  The area on the beach they had chosen is a difficult venue but often throws up a good fish or 2.  It's difficult as it has shallow gulleys which run the length of the beach parallel to the shore.  This is all well and good on the flood as you can pop your bait in one of these gulleys and retreat up the beach confident that your bait is in the optimum catching zone.  However fishing the ebb is difficult as you could wade out 50 or 70 yards and cast as far as you can but you wouldn't know if your bait and hooks would be in the water or on the high bit of the gulley
However a combination of inaccurately assessing when bottom water was exactly and estimating the size of the tide incorrectly meant that the twosome arrived at the venue a bit early and the water went out further than was planned for.   They had hoped that low water would have been around one of the bigger of these sand gulleys but the tide went out a good 200 yards further which meant it had to be crossed and all the safety implications of this flashed through their minds.
They set up and fished the last hour of the ebb crossing and recrossing these small gulleys.  A couple of times Ian lost his gear and needed dais help to find it.  One time just as the tide was turning Ian left his rod on a sand bar and couldn't find it.  He had to wade out to sea and walk parallel to the tide line until he walked into the line, eventually doing so.  He then couldn't find his rod stand and he was wearing a quality 300 lumen headlight, gave him quite a scare, black as coal it was.
Bait was maddies, lug squid and mackerel.  conditions were lively with a westerly in the high teen gusting to the mid twenties.  Tactics were  a big old cod bait cocktail a mixture of everything on a pennel 3/0 on one rod.  the other rod scratching around with luminous beads and / or those little needlefish muppets size 4 hooks.
Nothing at all during the ebb was caught but at bottom Ian caught this little 5bd rockling on a lug bait tipped  with a squid tentacle.
He had a bit of blood coming out of him and was left in a little pool to recover.  It was later observed swimming off strongly.  Good job mind as he was just going to go on the hook.
A little into the flood Ian had snotty eel which must have been on the line a little while as he had turned a lovely pristine rig into a snotty brillopad.
Nothing then for an hour or so although in fairness they were not fishing comfortably with that gulley behind them.  Another hour and the gulley was crossed and the fishing became less worrying, it was a shame the fish didn't see it that way, as we were pushed off that last gulley it was time  to pack up, it was gone 12 and there was work in the morning, the both would have loved to have stayed.  Ian beat the blank with a rockling and an eel, Dais run of bad luck continues with a third blank on the bounce.
Ian reeled his scratching rod in and had another rockling.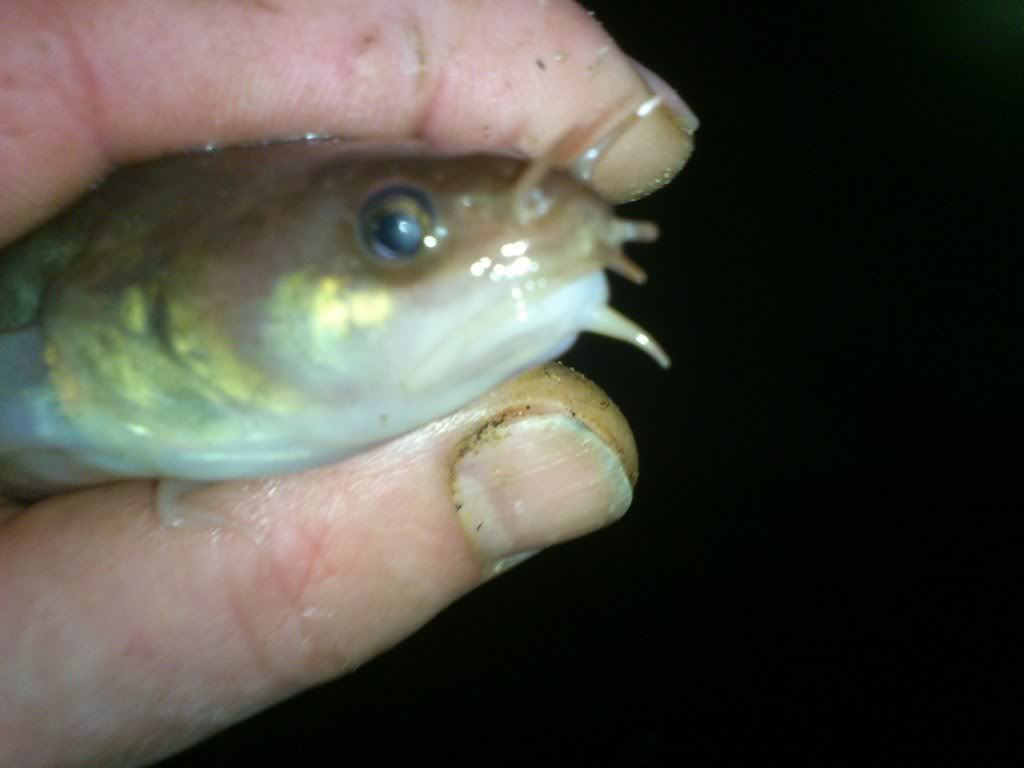 As the bait had scarcely been touched and with 5 mins to go before the agreed upon pack up time, one last cast was called for, Ian waded as far as he dare and lobbed it as hard as he dared hoping to get into the aforementioned gully.
He then proceeded to break down the big rod and pack away.  this done he proceeded to reel in his TT lite with the now new (non eel obliterated) scratcing gear which was 12" 12lb snoods with a bit of bling #4 hooks.   Strange he thought there is a bit of weight on here bloody hard work it was pulling this dead weight in, he was contemplating cutting his line as it was taking a bit of time, then.....  nod!  Nod!  oh shit!  Theres a reasonable fish on here he thought. 5 minutes later there was a very happy angler having his photo taken.  
with this PB shore caught cod of 9lb 7oz weighed  at home, originally measured 9lb 3oz on the beach but it was very windy.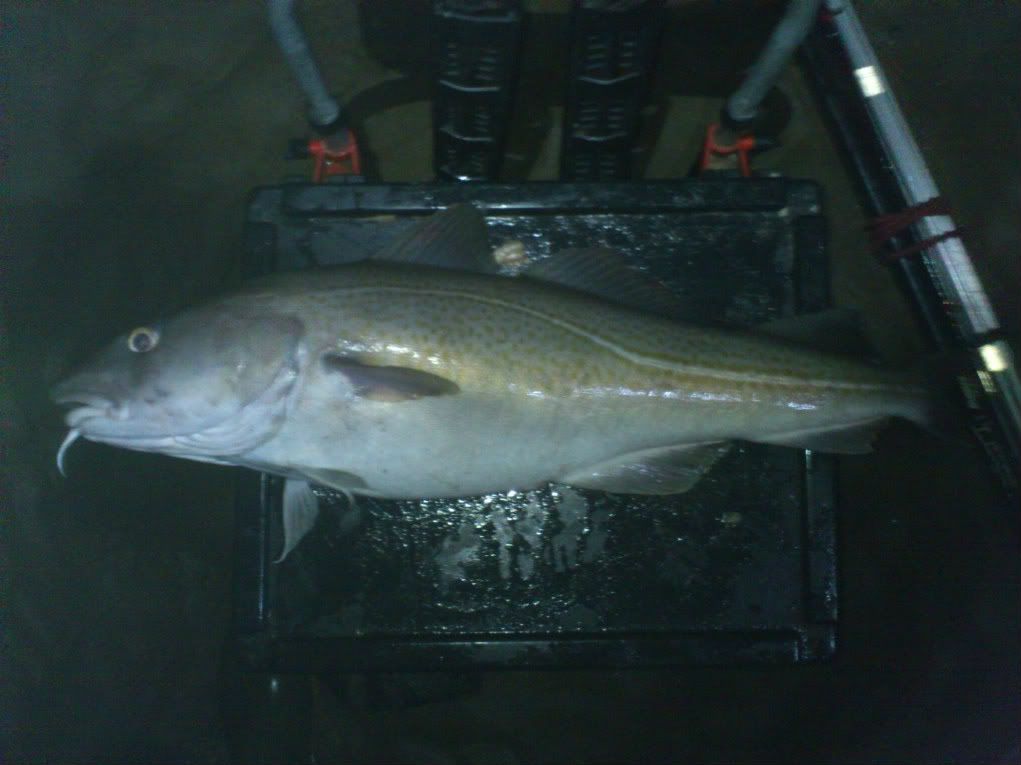 Fri 20 Jan - Knab Rock
Facing 4 blanks on the trot Dai Crocker did the sensible thing and (no he didn't pack in fishing) headed for the Knab early to get one of the most productive spots.  Fishing with some left over maddies, lug and mackerel he waited patiently on the waters arrival.  He fished two up one down #4 hooks.  At first it looked like it was going to be the fourth blank on the trot, however after an hour and a half Dai had a nice knock which resulted in a pristine dab.  Dai commentated on the good looks of this dab, something like the nicest fish he had ever seen.  Envigourated and relieved he set to the business of catching some fish.  Once darkness fell the whiting came on the feed nothing huge mostly around the mid twenty cm range.  However he had a good dozen of these and four smallish dabs. 
Sun 22 Jan The George Mumbles
Saw the first of this years SWASAC league matches for Penlan.  It was a good turnout for the Penlan home venue  5 team members for the Match against Tycoch to be chosen from the 10 anglers who turned up.  Ian the two Dais, Martin, Lee, Andrew, Rob, Paul, Lyn and Apples.  It had been decided that the Penlan boys would have a mini competition amongst themselves as well.  The biggest bag would get a bottle of whiskey kindly donated by Lee.  A complicated formulae which only Stephen Hawkins could understand was rapidly deployed to choose the Penlan team.
Rob, Lee,  Apples, Andrew and Lyn were chosen They were to fish against Luke Smith, Mark Davies, Michael Davies, Richard Russ and Ian Russ, respectively, all good experienced match anglers.   Fishing was dire from the beginning for the first 2 hours the only fish that were caught were for the non competitors.  One of the spare Tycoch lads had a reasonable flounder and a whiting and Ian had an18cm whiting and a 22cm whiting for a handful of points Apples also had one undersized fish.  Darkness fell and the odd fish started to come in Luke for tycoch had his bait soaking in a magic potion and was top rod at the end of the night with 2 dogs, 2 whiting and a dab for 101 points beating robs 2  26cm and 23cm whiting.  1-0 to Tycoch.  Apples had a 34 cm whiting which pulled a point back for Penlan beating Michaels 24cm dab 1-1 and pushing Ian and Rob out of the reckoning for the whiskey.  Dai Richards had a flounder and Martyn had a rockling but apples kept the lead.  Lyn pulled in a 18cm and a 28 cm whiting anda 19cm pouting for the lead and also a point against Ian Russ who managed a 30cm whiting to avoid the blank.  2-1 to Penlan.   Andrew who blanked was beaten by Richard's solitary 33cm whiting making it 2-2 with the other pair not catching a lot except for a whiting which was a ¼ of a cm to small to count for lee.  He threw it back and muttered something about eating your greens or something like that minute ticked by and with a few to spare mark broke the deadlock with a 29cm whiting breaking Lee's heart and condemning Penlan to an early home defeat.  Dai Crocker, Andrew and Paul blanked.  
There was a a westerly breeze which was a little blustery at times but the sea was a mill pond.  A medium tide making, tactics were usual match fishing tactics and various baits.  Lyn won the whiskey

Presentation of Dais Trophy forwinning the league
presented  by Chairman LyndonPrice