Thurs 29th March Cefn Sidan
Dai Crocker, Apples, Martyn Glen and Ian decided to make the most of a convenient tide on the above mark.  North westerly light breeze, no swells to speak of. Medium/low tides falling, lug worm (massive ones) and maddies for bait.  Parked in carpark F Dai and Ian headed 200 or 300 hundred yards right the remainder headed left as there were four or five anglers straight out.
The first thing they saw as they arrived on the beach was this, unsure if this was a good or bad omen the pair who had chosen right remained optimistic. 
Their optimism was rewarded as they were both soon on the flounder.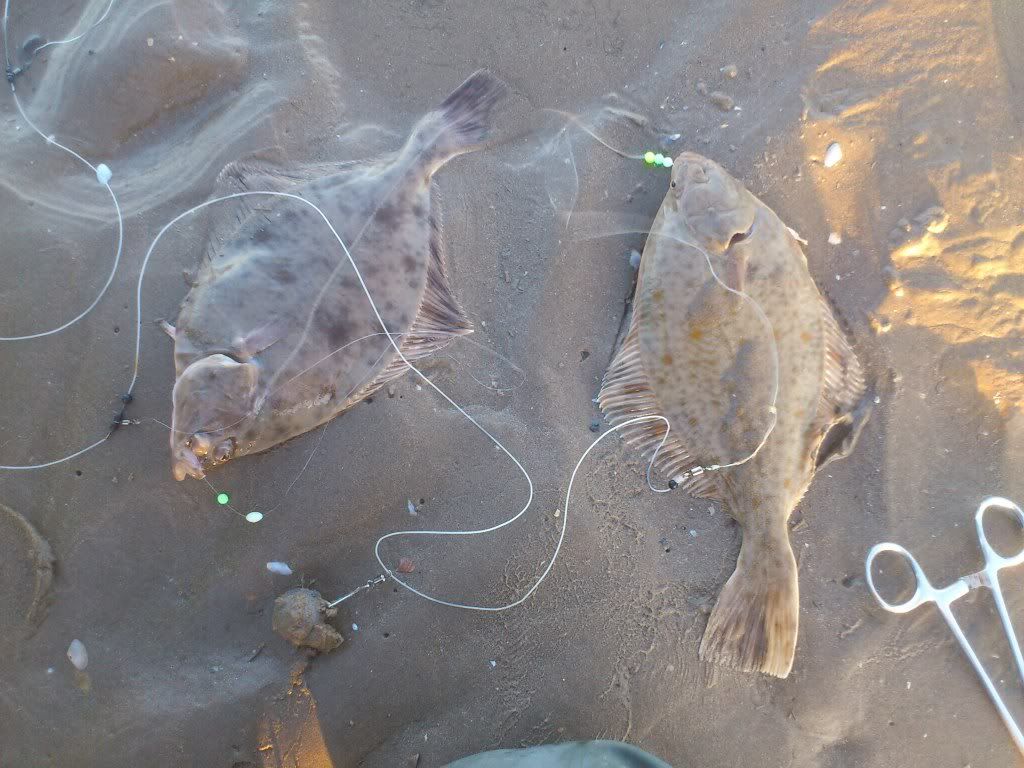 As twilight and the subsequent darkness arrived
the flounder fishing tailed off but they were  still getting the odd one or two.
This was fish of the night for the both, caught by Dai it was over 40cm an it wouldn't have gone over the lb mark it was that spent.

Dai also had this 30 something cm bass which was a quite nice fish.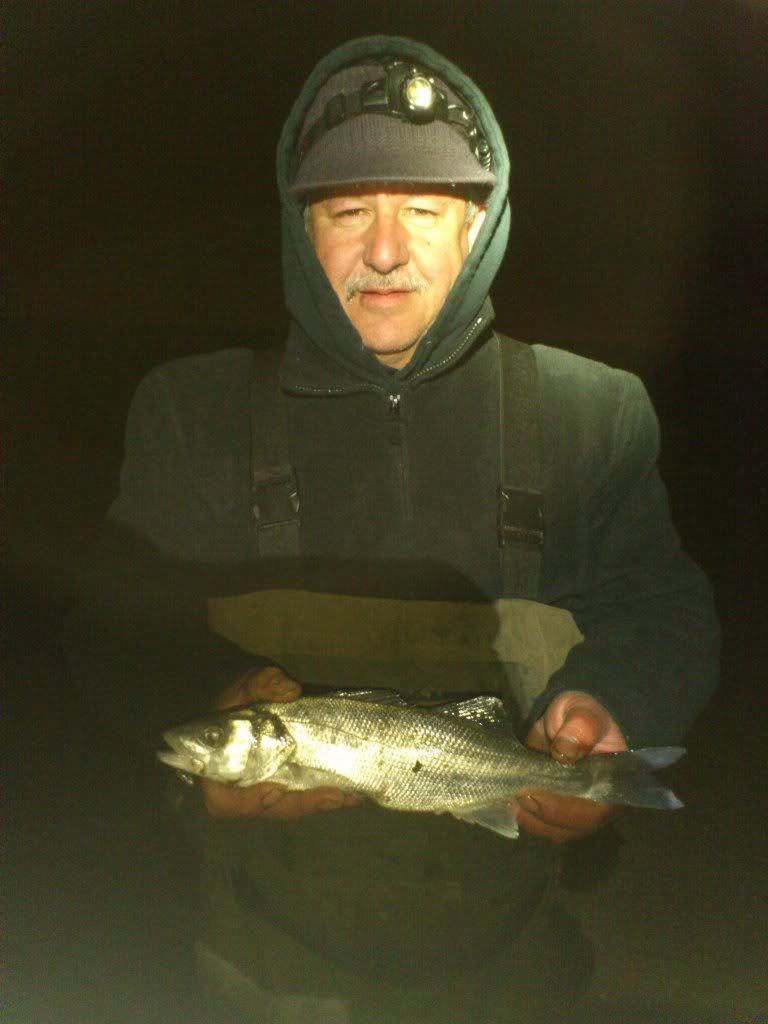 The lads packed up just after top of the tide with 6 or 7 flounder each and Dai had the bass kicker which was returned. 
Apples had a nice fat fish 42cm but weighing in at a plump 2 1/2 lb

amongst a bag of 9 fish mostly bass and a handful of  flounder.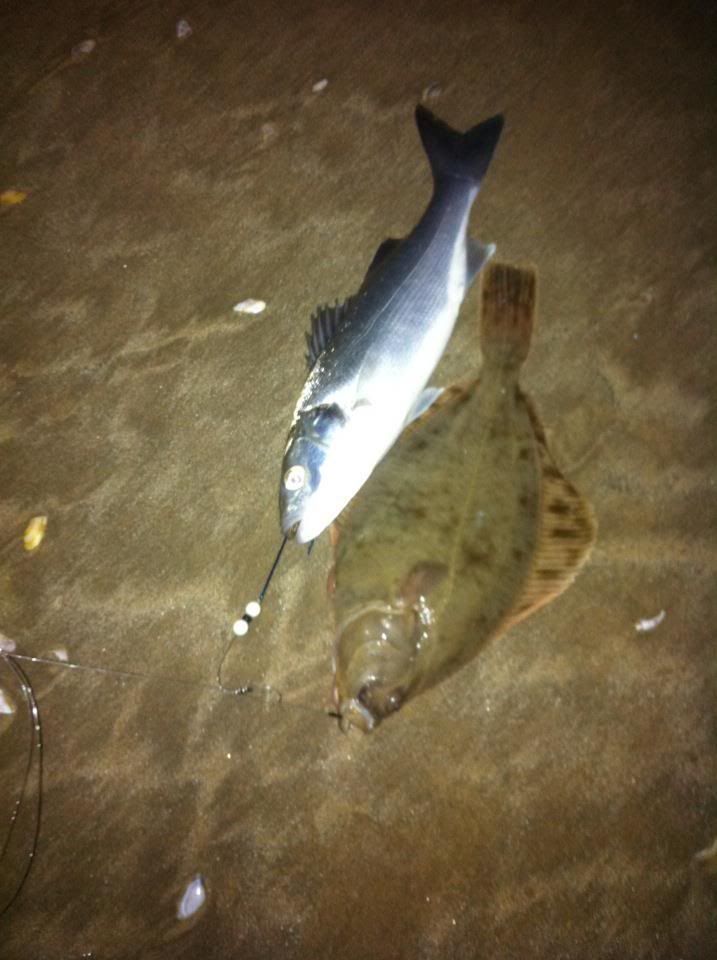 Luckily for these guys Apples returns all his fish without exception.  In fact out of the...  must have been 35 fish caught only one was kept, which was another 2 1/2 lber caught by martyn who also bagged up with around the 7 or 8 mark.  Glen was also in the fish catching a similar amount to everyone else. 

Fri 30th March Rest Bay
Work commitments  and other reasons meant Lee, Stead, Ian and Gammons were at a loss where to fish on such a low tide over high and still be in with a  chance  of catching a decent fish,probably a ray to compete with Lee for the fish of month competition.  It was either compete with the  hoards at the deeps or try something different.  A plan was hatched and as time was critical and any walk would have eaten into their fishing time Rest Bay was the favoured option. 
bait was the usual fayre, lug, sand eel, squid.  Winds were South with the faintest whiff of east, medium seas.  Tactics were pulley pennel up and overs on one cast as far as they could trying to gain the interest of a passing ray.  Smaller tackle for closer in oonthe other.  Chuckles could be heard on the left of the beach as Stead and lee were in amongst the schoolies.  This one for stead probably the best.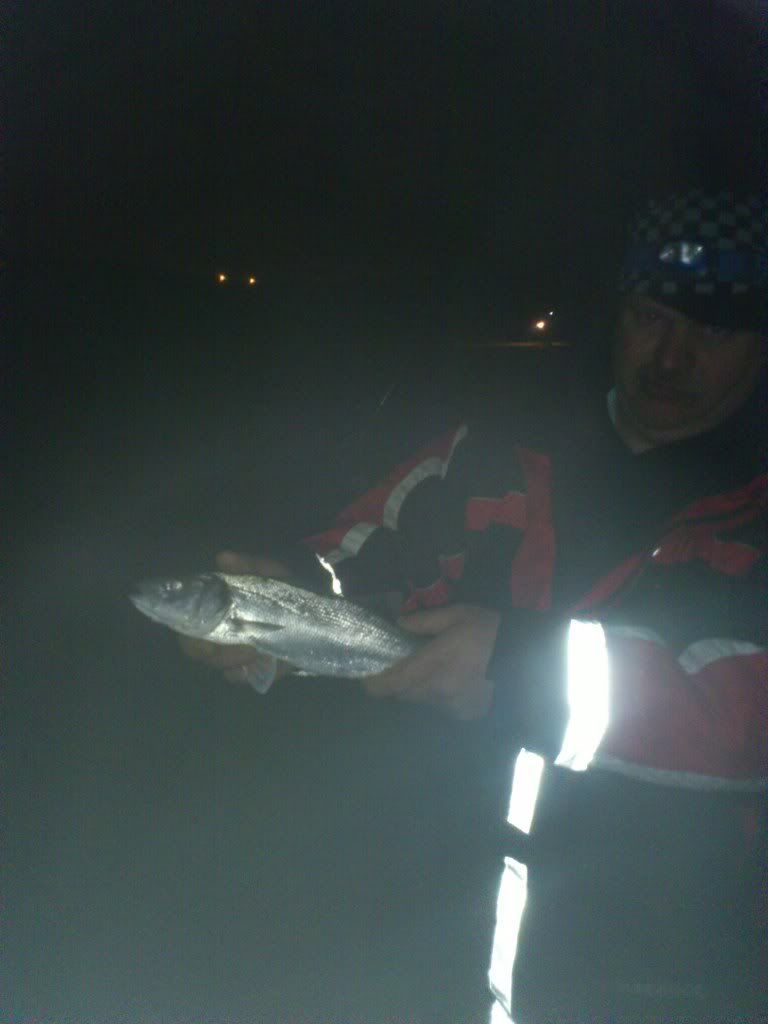 Towards the top of the tide Lee had a cracking knock, soon this we beasty was on the beach another fine fish for Lee.  45cm this time, up until this point Lee had the top four fish this month, his two rays, his cod and this bass. knocking Apples bass from 4th place.  However there was still a few hours of March left where he could be caught.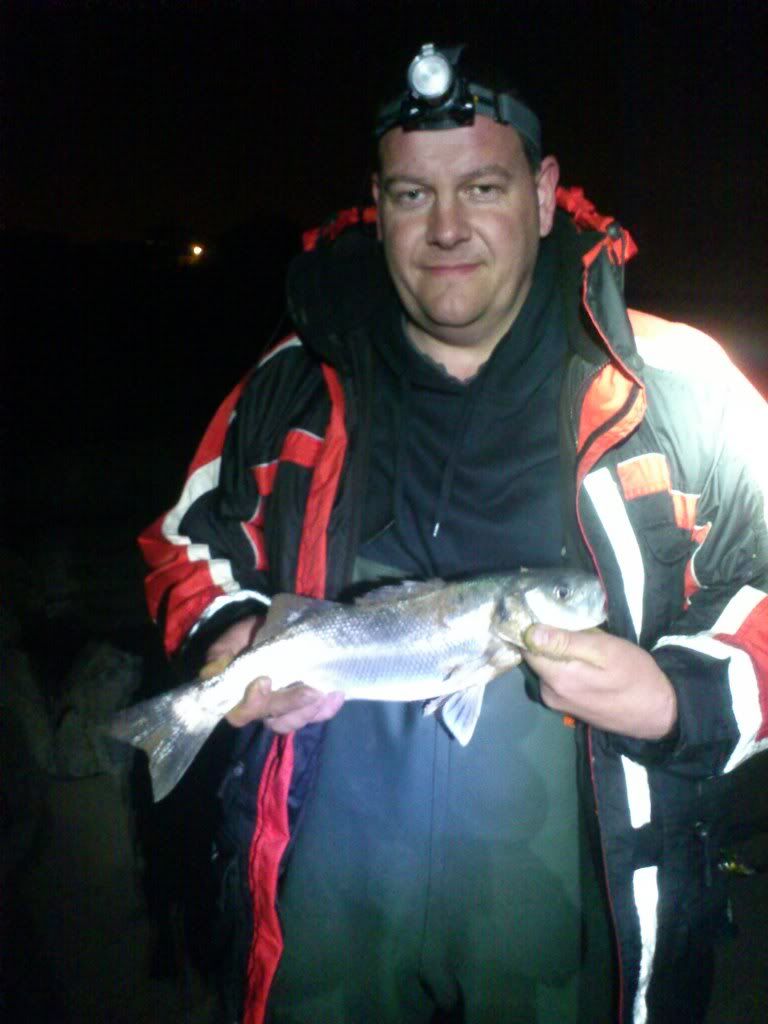 Everyone got to the business of catching him.  Gammons had a nice bite on sand eel was this to be the fish that beat lee?  A couple of minutes later four anglers stood scratching their head as there was a flounder on the beach perfectly hooked on a sand eel bait.  weird!
Next in was stead a typical Ray bite a good twitch then nothing as it sat on the bait contemplating the next move.  You could see the beads of sweat forming on Lee's brow.  The kind of sweat that only the real worried get, in fact he was sweating like a fat bird in a rubber boob tube. 
Wow stead really had a fish on here.  the tip was juddering on the retrieve.  What could it be?  It was a ray definitely. 

A short while  later in came this magnificent beast.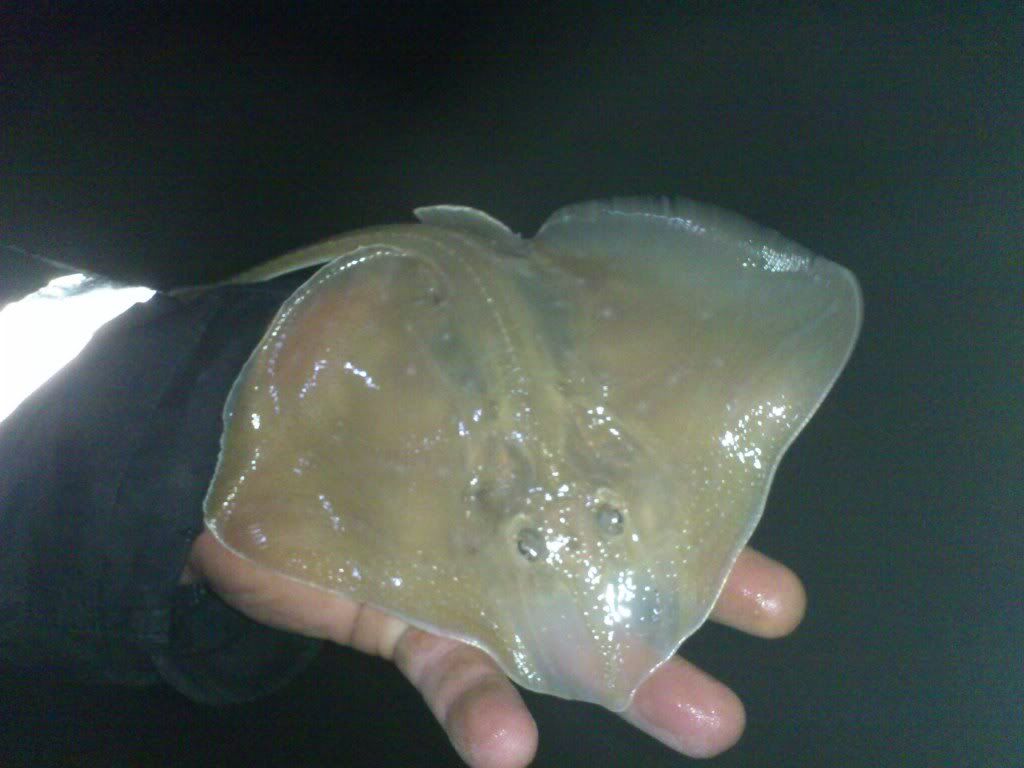 Not quite the monster he had hoped for but a nice addition to the species list for the year.  Oh and Ian blanked.  Congratulations to Lee for the top 4 fish of the month,which made him really popular in a Abu Hamza al-Masri type of fashion .
Sat 31st March Cefn Sidan
John Richards reported that himself Glen,and non members  little Ed, and Darren Jones fished sat night down cefin sidan bait was mud rag i had 15 flounder and a weaver glen had 5 flounder darren had 2 flounder and ed had a doggy so a good session over all but not enough surf for bass !!
Sun 1st April Loughor Ashtips
Lyn reported that glen and myself fished ashtips, sunday 1st april, bait mudworm, 11.30a.m - 3 - 00p.m
glen had 2 flounder both 33cm, i also had 2 flounder 35cm & 36cm.
Sun 1st Apr Ginst Point.
Ian and non member Peter headed for their favourite mark hoping to bag up on a few bass.  Bait was maddies, lug and peeler.  They arrived and were set up by 9 am an hour into the flood on the joint lowest tide of the month.  wind was quite a cold westerly switching WNW.  Tactics bass rods on one pennell rig with crab fished running ledger style ,the other a wessex rig small hooks mixed baits of worm, crab claws, cockles and clam strips.
Peter was soon in on worm a palmed size flounder.  Ian just fed the crabs.  All morning no bites.  top of the tide came and Peter had two more flounder of a tidy size but completely spent.  They stayed for  two or three hours of the Ebb Peter had one more a nice one of around 40cm but again it was thinner than Spurs' Champions league hopes.
Two blanks on the row then for Ian?  As he packed one rod away and peter made his way back to the car.  Ian cast out a double crab bait.  Just to use up the bait really after packing up the first rod he reeled his second in to find this lovely, handsome, welcome blank beater had rammed two peeler crab in its gob.