Fri 6th March Monk Nash
Ian, Andy, Stead, Lee, Dai, Gammons and Rob set off the ussual 4 hours before bottom water to enable them to get the two parking spaces at the end of the lane.  However these were already gone so a donation to the farmer was in order and a longer walk than normal. As they got on the beech they realised that they would have an even longer walk as there was a good 20 anglers spread across the first part of the beach The weather was a very slight north easterly and the sea conditions were dead calm there was hardly a ripple.  Very high tides rising to the highest of the month over the next couple of days. Tactics was alternate baits of lug or sand eel squid wraps slung as far as possilbe on up and over pulleys 3/0 4/0 pennel. 
Just one fish caught on the remainder of the ebb a small flubber for Ian.  Low water came and still nothing of note just the odd dog here and there.  Stead had a good take on sand eel and brought the fish to the shallows before it came off much to his chagrin.  he was jumping up and and down on the spot cursing his luck.  The same for Ian 10 or 20 minutes later.  The fish must have been feeding very furtively picking at the bait and not getting it down their necks at the rate required for a good hook up. 
A half hour into the flood some of the lads were catching the odd doggie and Ian had a typical Ray bite quite a tidy knock then nothing.  He gave it 5 mins and reeled in to find this welcome critter at the end of his line.  He thought it was a much bigger fish is it went well downtide but the gripper in the lead had not come undone and there was a quite a bit of weed and little bits of plastic and line wrapped around it.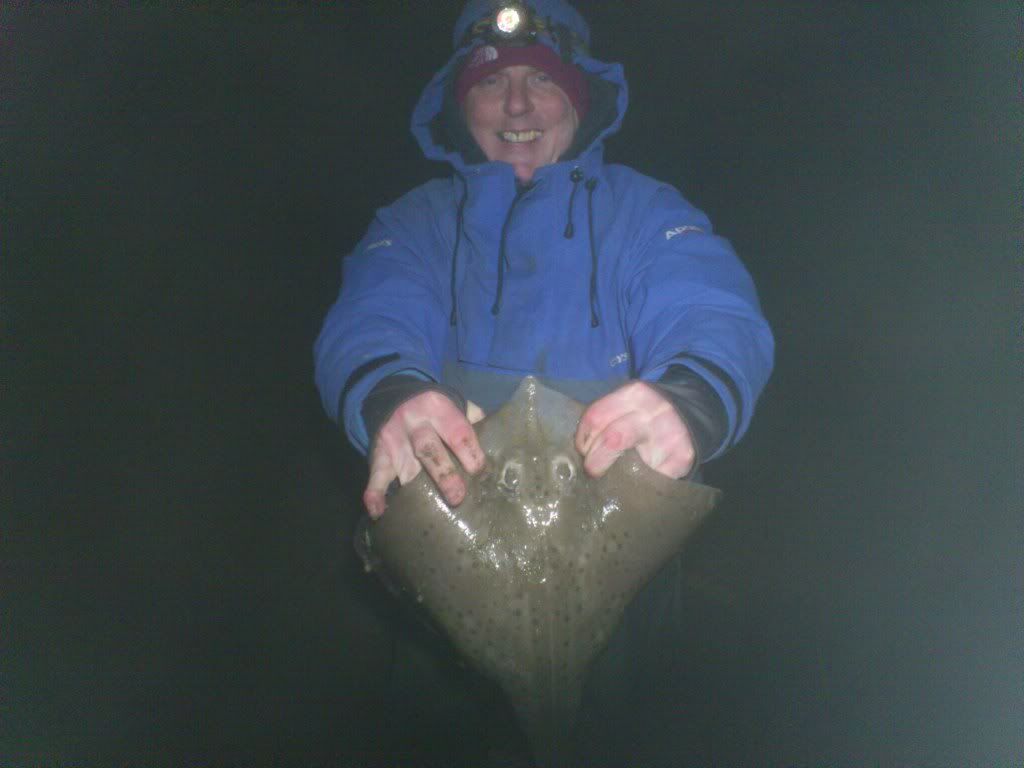 For such a high tide the lads had a bit longer on there than normal  must have been the flat seas or something.  They usually high tail it out of there around 2 1/2 hours up but stayed for over 3 hours.  Ian ended the day with 2 dogs, a blonde ray and a pouting.  Dai had a couple of doggies, Stead had a doggie to beat the blank.  Rob was blanking until the very last cast reeling in a welcome brace of doggies to beat the aforementioned blank.  Lee, Andy and Gammons blanked.
Sun 8th March Cefn Sidan Carpark F
With nearly the highest tide of the year offering itself for to the grateful angler one Penlan Master Baiter in particular thought it was a good idea to fish Cefn Sidan from bottom right up to top.  The others like sheep just followed suit, therefore. Not to mention any names Dai Crocker, Ian, Lyn, Gammons and Ottie got onto the beach and peered into the distance.  There was no water there!!!  There was something blue over by Whitford point so they headed that way for an hour or so.  Finally arriving at some water it was not half coming in at a rate of knotts!!  The next 6 hours involved a backwards march up the beach interspersed with the odd fish here and there.  The weather was sideways squally showers with a brisk southwesterly, seas were quite bassy looking with white water as far as the eye could see. One rod with 3 hook 2 up 1 down medium snoods small hooks.  maddies and lug worm for bait

Dai was first in with flounder on his first 2 casts.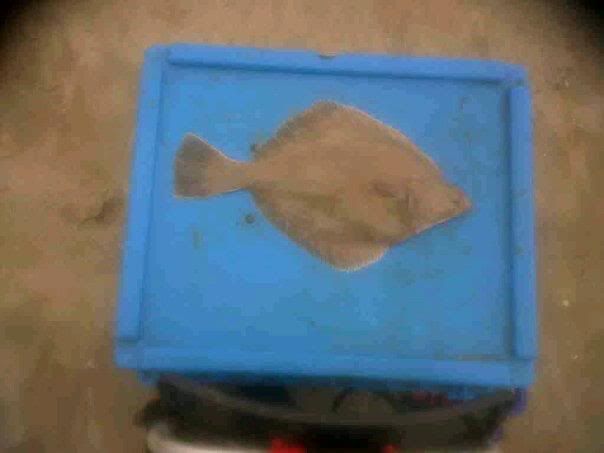 Ian had 2 flounder also this one the best.  He tried and tried to put it back but int he end it was dispatched and a good friend of the sectionhad it for dinner the next day.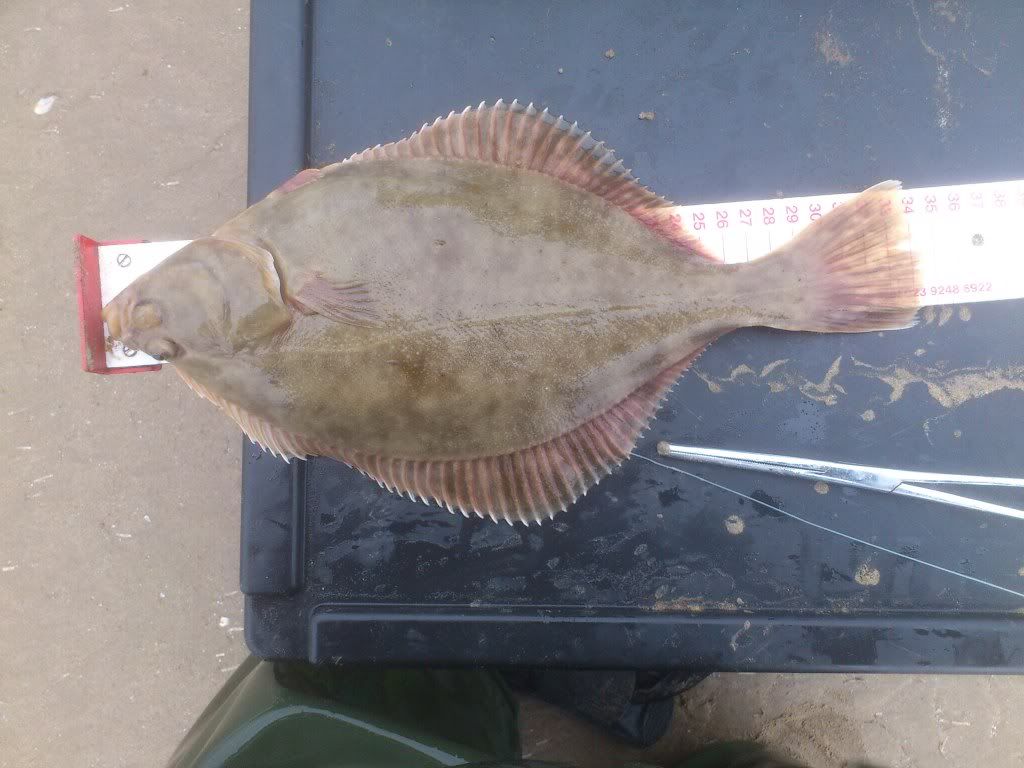 Towards top of the tide the fishing died off a bit. however the shallows were hooching with Golden Greys.  So a few of the guys decided to try and get into them.  Lyn was successful and captured a nice fish of 39cm sorry no picture and gammons had this 33cm bass.
The fish was not too happy about being held like this, the pose being camper than a gift set of Glee DVD's. 
An hour before top of the tide Ian phoned around the guys to find out what they had all caught and to suggest that they all pack up early as there was so much grass in the water.  A 7oz gripper could not hold bottom the pull of this grass and the massive tide combined to make fishing virtually impossible. It was as if someone had dunmped a hay stack a few hundred metres uptide. He rang dai and heard him definately say he had a five pounder so he was both gutted to be knocked off top spot in the fish of the month competition, and glad for a mate to catch a nice fish.  So when they were back at the cars Ian asked to measure the fish to witness it for the comp  Dai looked at him with a puzzled look all dull like.  Ian said i thought you said you had a a 5lber.  Dai laughed at him and said 5 flounder you deaf git. Ottie had a flounder, Ian 2 flounder, Lyn 2 flounder and a golden grey.  Well you all know what Dai had, Gammons saved the blank with the mortified bass.  Rob tried to claim a rubber sea horse beats the blank,  Maybe if it was on the hook Rob!!   but you found it on the high water mark.

so a re-leaved  Ian headed home with a memo in his pocket to clean his ears more often and still in the lead for fish of the month Competition.
AOB

Ian wanted to say something about the Photon Shop in Cardiff.  His fennix HP11 had a few connectivity issues in the battery pack.  He's very happy with the light in the main it gives very good light for the price.  Around 50 quid and free p&p from these guys. 
Well anyway to cut a long story short they asked Ian to send it back for them to have a look.  This was done on Thurs evening by Saturday morning there was a replacement in his letterbox.  Ian has asked to express his gratitude via this website.  Top quality service which he highly recommends

Here is their website click.
The Photon Shop.
Suite 1, Storage Giant
376 Newport Road,
Cardiff, CF23 9AE
Congratulations to Lee on winning fish of the month.  click here for details