NEWS
SWWASAC junior coaching starts again on the West Pier on the following dates-
Sat April 28th 2012 - 9.30am to 12.30pm
Sat May 12th 2012 - 9.30am to 12.30pm
Sat June 2nd 2012 - 2.00pm to 5.00pm
if any one is interested or wants to bring their kids along All welcome. Please book in at Mainwarings Angling Centre on 01792 202245 £5 per child all equipment and bait supplied!! just bring yourself!
Caswell Thurs 12th
Ian, James, Lee, Stead and Dai Crocker had an inkling that Caswell would fish well on these early season big tides.  There's not much room on this beach at top of the tide so the lads split, some fished the ledges and the others fished the beach.  Tactics was a pulley pennel with cocktails after something substantial and a wessex rig in the surf.  Dai, Ian and james on the beach and Lee and Stead on the rocks.  Bait was lug worm,maddies, sand eel and mackerel.  Easterlies were forecast but what wind there was, was insignificant, there was however a tidy residual swell.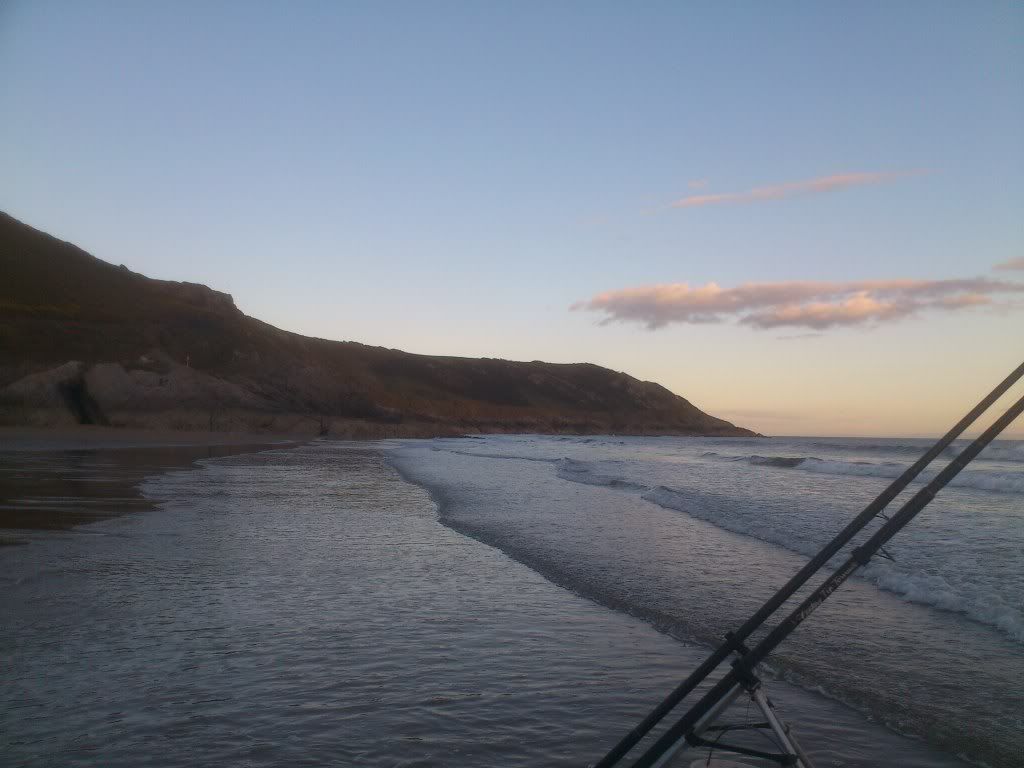 Ian thought it was going to be his day when he pulled this flounder in first cast.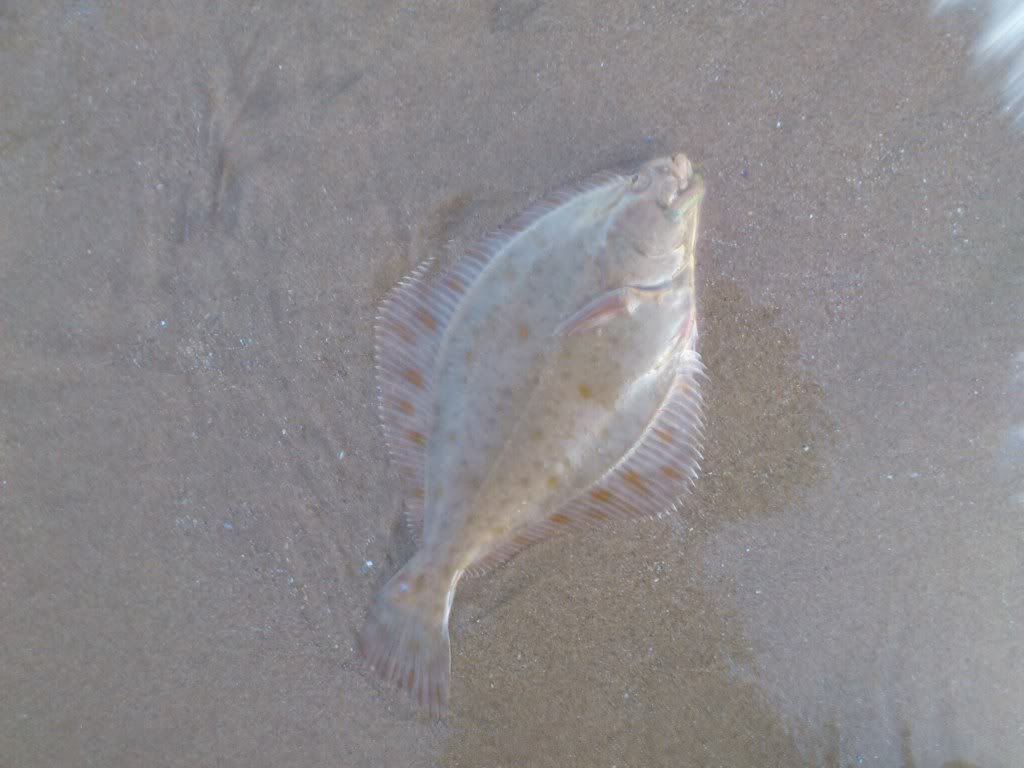 Then 2 surfers decided to ponce about not a 100 yards out dead in front, which was a bit annoying.  The lads on the rocks were still to register at this point hour followed hour and there was no more fish to be seen.  At one point the lads turned around to look in the garden of the houses on the beach and one guy has a helicopter parked in his garden.  Geeeee!  how the other half lives. 
As darkness fell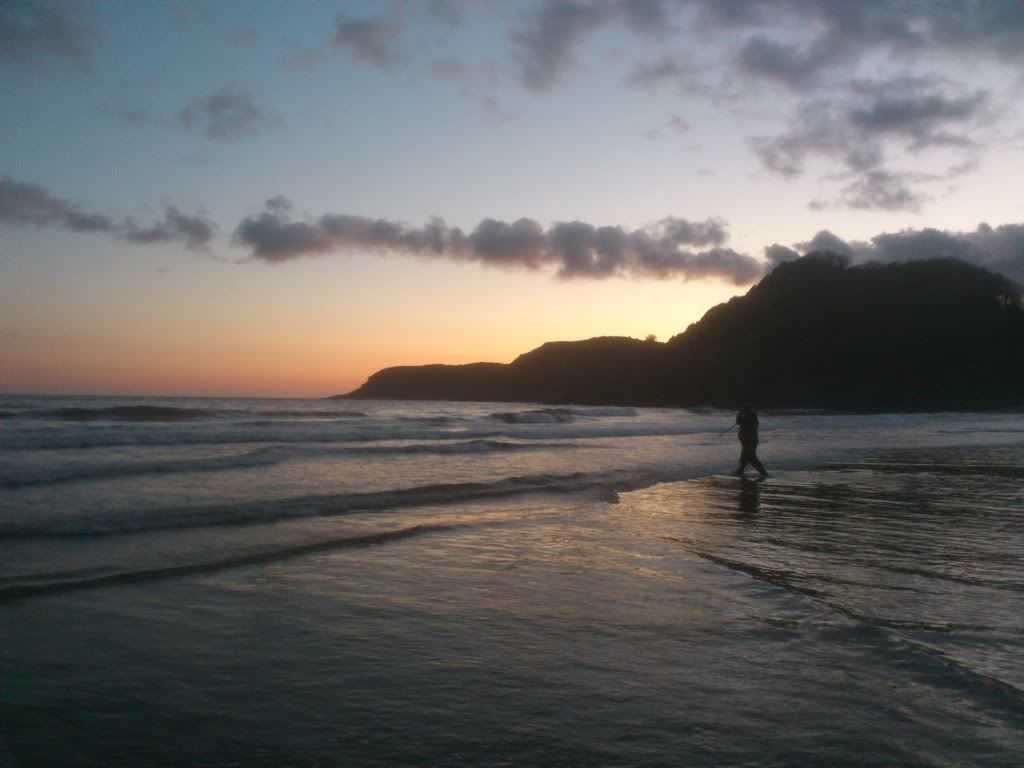 Ian had a doggie on his pennel rig, the boys on the rocks had a turbot each around the same stamp.
Lee went on to get another 2 x doggies.
That was it so the inkling was wrong pretty dire really Dai and James blanked.

Ashtips Fri 13th Apr
Lyn Price reported that he fished here at 10-30am - 1-30pm, bait mudworm, 12 flounder between 20cm - 28cm, cracking weather loads of fish jumping, crab on the increase if no bite within 5mins, no bait left.

Landimore Fri 13th

Dai and ian headed here on the flood a low tide falling bait was lug and whiterag.  As it was getting dark they headed down to waters edge noting that they were crossing some deep looking gulleys on the way.  They took one rod with them and left the rest of the gear on the side of a gulley that they knew the tide would not come over the plan being fish here for three hours up and a bit back.
Down at the waters edge as soon as the bait was hitting the water bang!!  lovely bass bites on the bass rods, the boys had been missing these all winter.  Whilst ian was checking the route back Dai had already caught 2.  When he returned with the news that the gulley behind was filling fast we only had another 20 mins left here.  Dai has a rule if you say 20minutes left!  he takes that as get off now. 
Off Dai trudged Ian stayed at the waters edge for a little while later.  Bang!! rod goes with a good bite.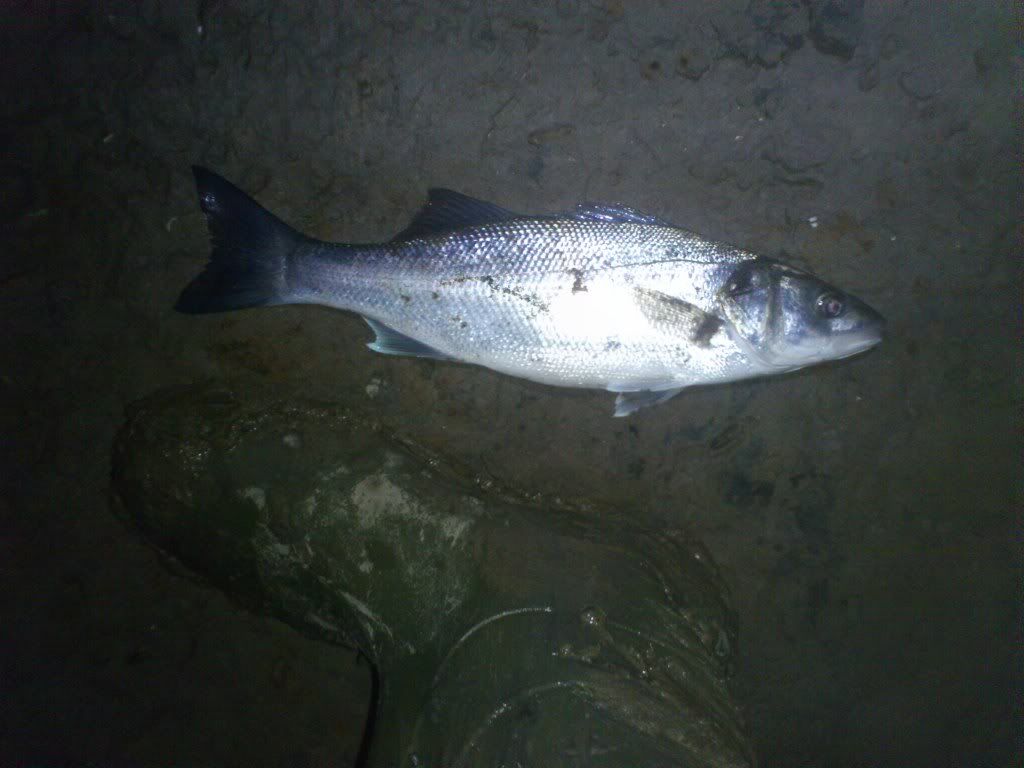 Baited up back in for last cast 2 mins another bite both fish around the keeping size but culdn't be certain, they both went back.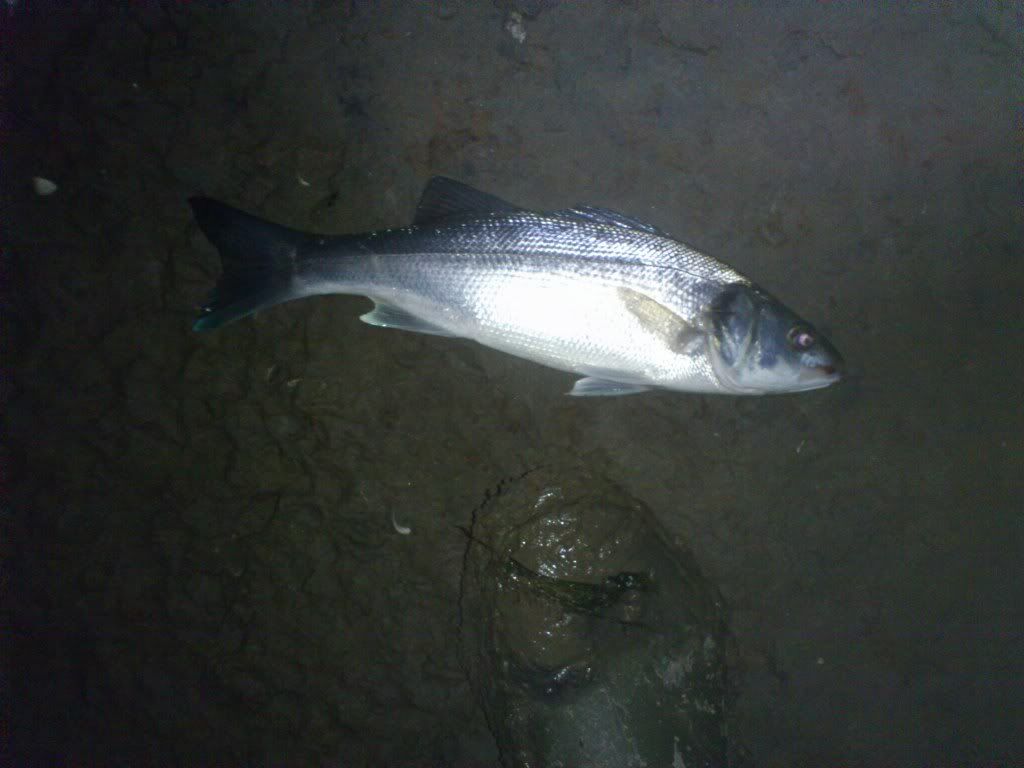 As this one went back Dai rang to say that the gulley was filling fast and i'd better scootch outa there pretty lickety split.  Good job he did too as it was waist height. 
Anyway the lads got to their spot to fish the remainder of the flood in safety.  The heavens decided to open at this point.   Tactic was a small hook two up on down affiar on one rod on the other was a ledgered pennel with a big lug bait hping for that lunker.   The bites continued here all night except for a half hour before and after slack water.  Both anglers had a good dozen or so fish but mainly smaller than those earlier fish, mostly all around this stamp and all on the small hooks.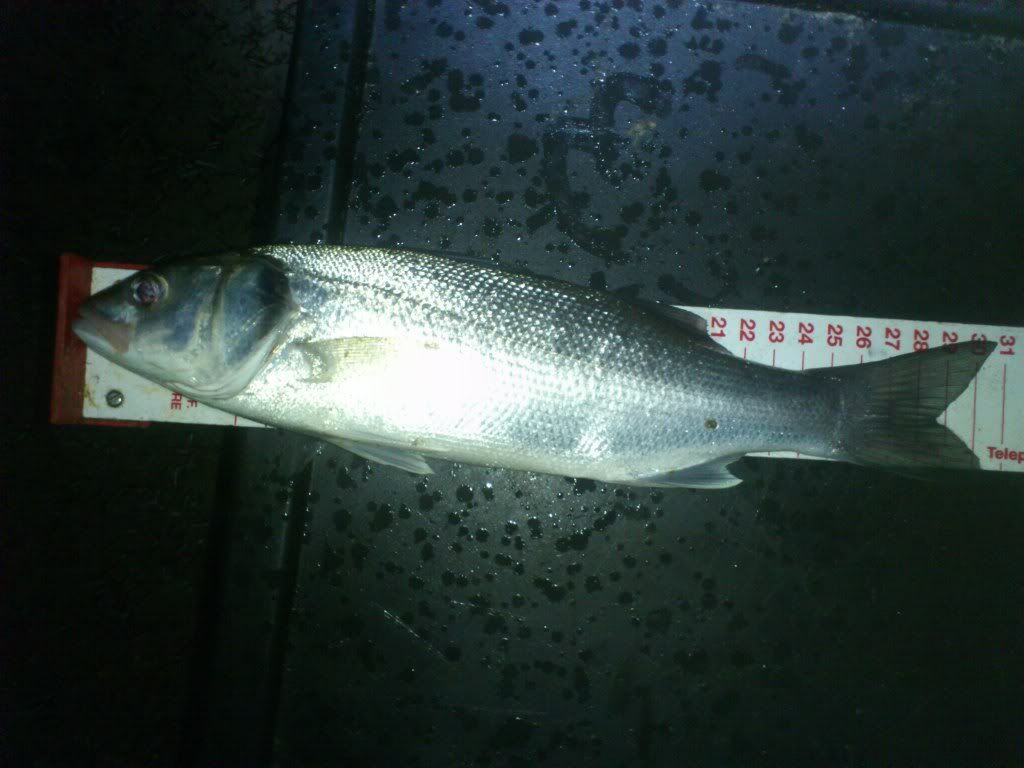 Llangenith Sun 15th
Penlan A team had a SWWASAC league home match against Llanelli SAC, the venue chosen was llangenith.  It seemsthat Llanelli were unable to feild a full team therefore lenny took the walkover.  and claimed one point for the Master Baiters.   James Gammons lost his match up making it 1 all, ever dependable jonny R won his match up
This being his biggest and the fish of the day at 39cm

 2-1
Apples his which makes it 3-1 and the final match up was Rob who lost his.  More info will be provided when available.

Cefn Sidan Sun 15th
Dai Crocker fished here straight out from car park F.  He had commitments this day and couldn'tcommit to the team match or the boat trip.  He took his mate Andy with him they fished the flood with 2up 1down paternoster small hooks.  Dai had five flounder and Andy had 1

Lady Jue III Sun 15

The weather forecast screamed go to the 3 Master Baiters who had booked a trip with Rob Rennie on his LADY JUE III

LADY JUE III is an Evolution 30 long cabin. She is designed to take parties of 8 with 2 crew, on long range exclusive charters. Powered by twin Yamaha 285hp turbo-charged engines through duo-prop stern drives to give speeds up to 40 kts, with a comfortable cruise speed of 25 kts. She has a state of the art Simrad electronics package and fishes 6 comfortably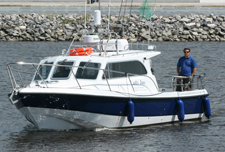 Bait was collected from the various sources around the Swansea Area.  However there was a distinct lack of peeler crab in our prefered tackle shops of Anglers Corner, mainwarings even the usually very reliable Gareth in Swansea Angling  was struggling.  Therefore the lads had to go to a source they are always reluctant to use as they seldom seem to have a good deal.
Anyway the peeler that was acquired was supplemented with some freshly dug and pumped lug.  Some frozen mackerel, squid and sand eel.
We met Rob 7.30 in the marina and was informed that there was to be only one more angler that day.  Steve who we had met before and a hell of a nice chap.  Great they thought a whole charter boat for four anglers.   :cheer: A shame for Rob mind you but hey ho!
A quick discussion was had and a semi consensus was reached on the plan for the day.  We'd do a bit of flatty bashing for the first few hours and see what happens from there.  
New traces were tied with smaller hooks as Rob made his way to and positioned the boat near the mixen buoy on a prominent sand bar on the Mixen shoal.
So the first hour which happened to be the last hour of the ebbing tide we seemed destined to catch dogfish.  When slack water arrived Rob repositioned the boat over the sandbar once more.  not much action over slack water then when the water started to flood we started getting some flatties on board.  A few nice Turbot for Rob, Lee and Steve.  Rob lost i a nice turbot on the surface.  As the trace came off a dodgy swivel was quickly blamed.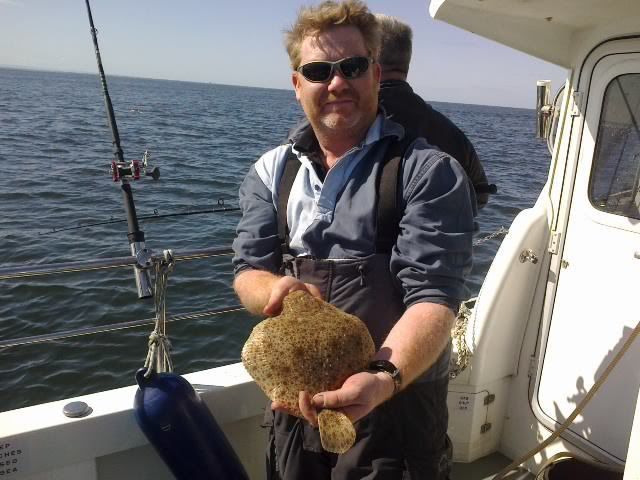 Stead then got a his first plaice of the season.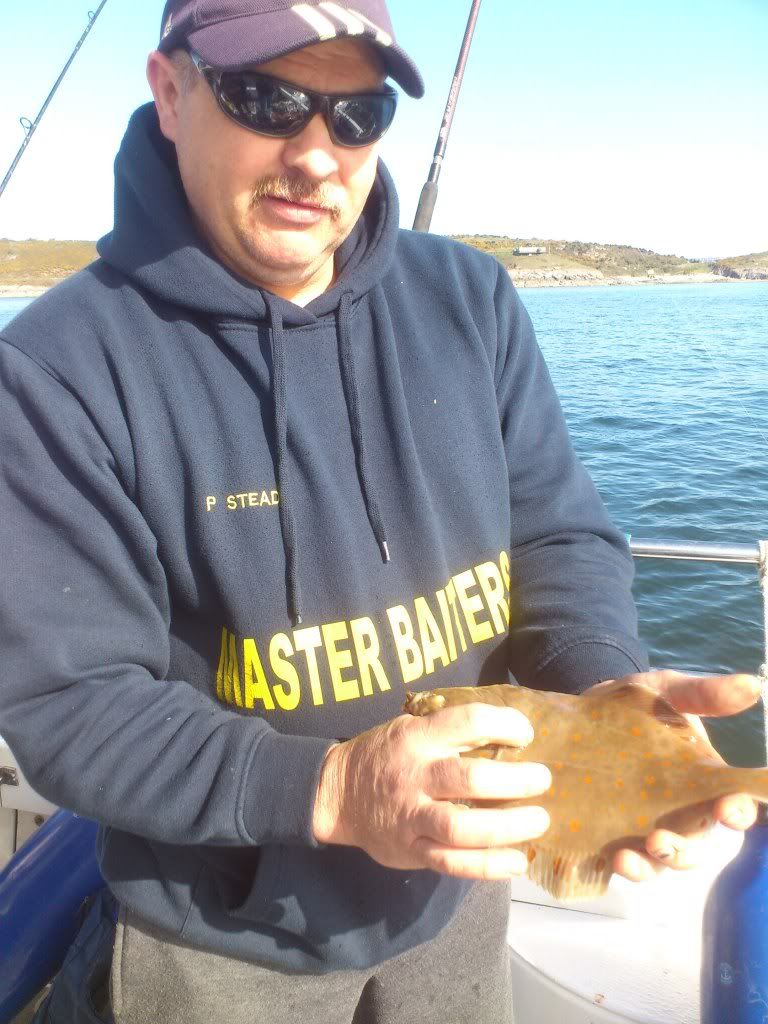 Lee had a nice knock and in came Robs trace and turbot.  As Rob leaned to retrieve, Lee gave a sneaky little shake and back it went.    lol  To everyone except for Robs amusement.  It nearly had as much a laugh as when Ian told the story of catching a huge red turbot on this bank last year.  He'd meant Gurnard and felt everyone should have known that   oh..  oh.. :
Fair play to the man he still kept making the tea and the sausage sandwiches we even had venison sandwiches at one point
The fishing remained like this for the next 90or so mins not great but hey ho !  Then Ian had a telephone call from his mate Simon who informed that he had heard news of a few nice smoothhounds coming in neat Porth cawl.  Ian repeated this outloud for rob to here, who was obviously interested so were the rest of the master baiters, we just had to convince Steve it was a good idea.  Yawwwnnn!!  A bit crap here.  Pheeew slow here init?  Come on fish bite!!  were amongst the words uttered.  In the end Steve gave in and off we motored up to the porth cawl area a good 30 mins steam at 25 kts.  Fair play to Rob  He doesn't mind burning the diesel.
It wasn't long and lee was into the smoothhounds.
Then another for Lee.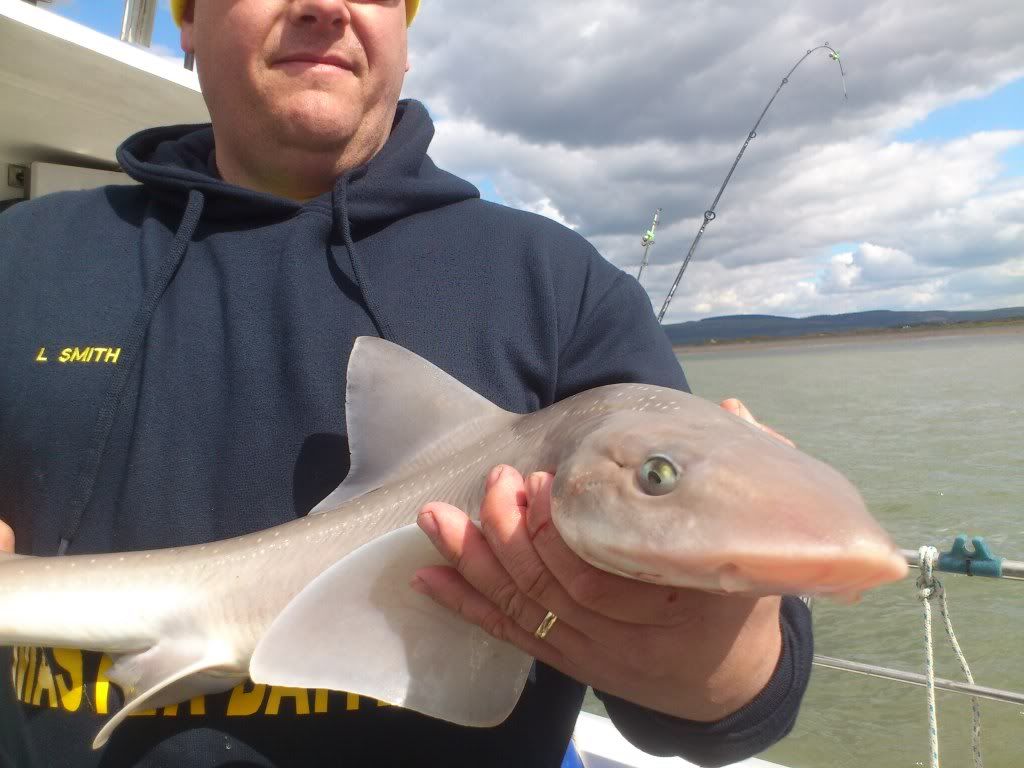 Then another.  Everyone else were getting a bit grumpy by now.  Then Rob and Steve was in, finally Ian got one which coincided with Lees 4th fish
Stead started to panic a bit now.  fish were coming in right left and centre.
This nice one for Rob at almost 12lb
By now Stead was nearly crying especially as he was being ribbed mercilessly.  He finally asked Lee to put the bait  on for him.  Which he did.  The bait hadn't touched the sea bed when bang!  A lovely bite for stead.  Ha ha ha Stead laughed as he reeled it in.  Get the camera ready he shouted as the fish neared the surface.   Just as the leader knot was leaving the water off it came.  Laugh!!  Well the boys nearly cracked their ribs they laughed so hard.  That was until we saw the veins popping above Steads eye.  Ooof he's close to flipping. so down to business.  It wasn't long before Stead was finally in but By now lee was on about 7fish and ian about 5.  
a relieved Stead with his first ever smoothie.
He soon had his second
This continued until the slack water at hightide and we all changed tactics to try and catch an eel.  We had run out of crab by now anyway  Ian had a strap then this one which is not too strappy.  Ian also had a good weight on and just as it got to the boat off it came he groaned and moaned, he knew it was a good eel.  When the trace came over the side the hooks had gone.  Look!!! he shouted bitten through but as it came closer he saw the tell tale curly pigtail. No don't look he exclaimed turning away quickly.
The smoothies kept coming to all baits, squid, mackerel and worm all caught smoothies. Each angler had both types of , they do know that they are identical genetically but until its clearer they are calling them separate species on their species list for the year.  
As the tide started to run a bit harder a few cod came aboard all the while the smoothies continued to feed hard.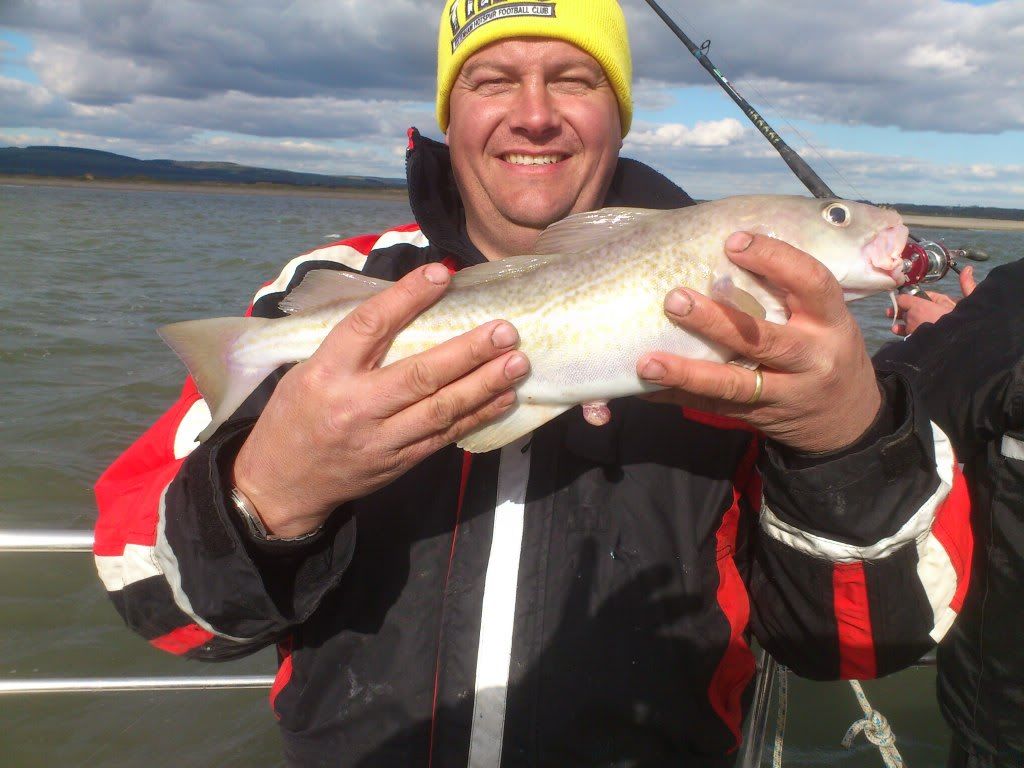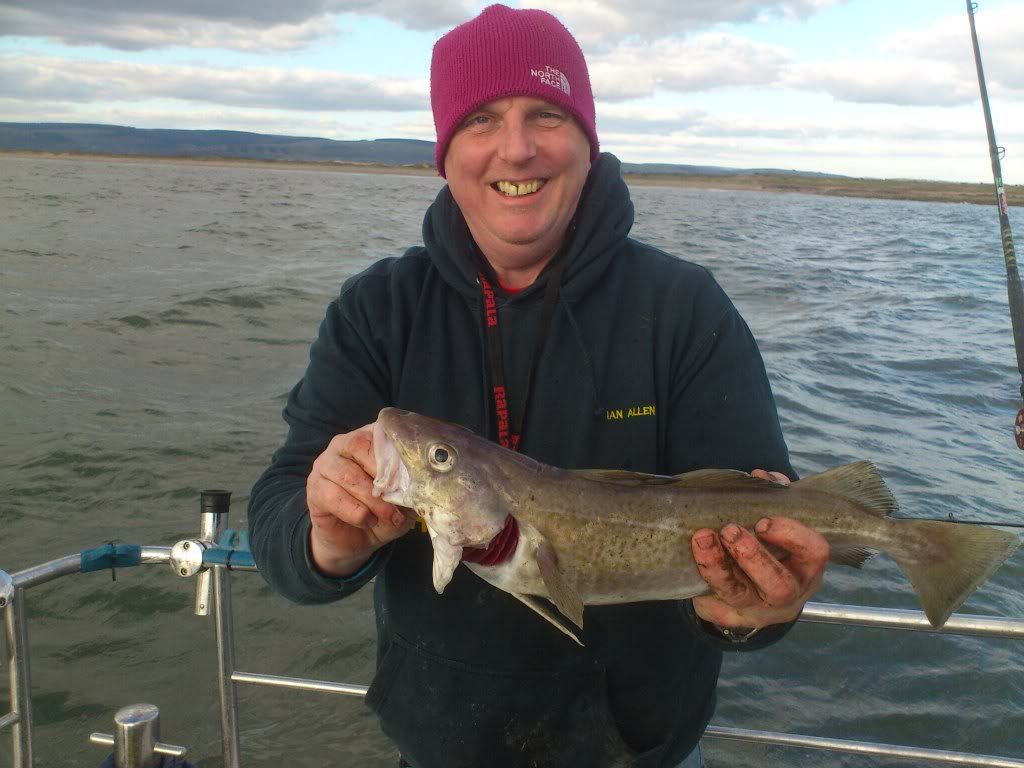 This nice fish was last aboard by now it was 6.30and time to set off home.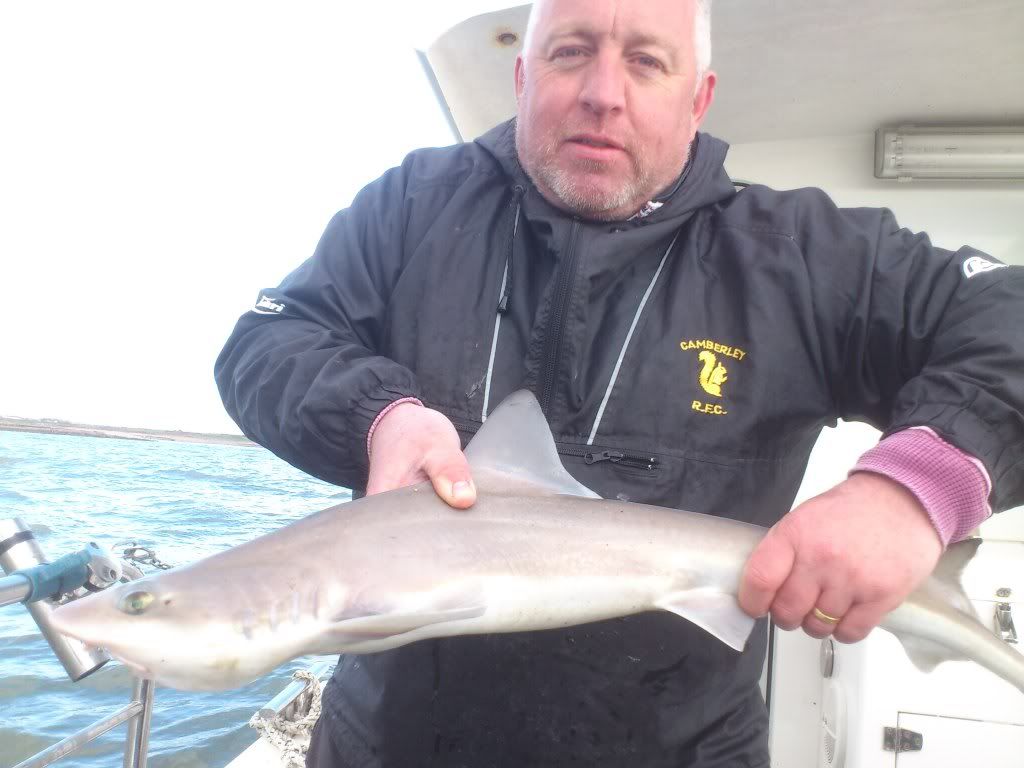 A rough gestimate was that the 5 anglers had over 45 smothhounds aboard that day mostly 8 or 9 lb fish Lee probably the most with around 12 -14 ian 11-13 .  and the others around 6 - 8 each.